Rural Stress
A Growing Enquiry - Art & Agriculture, reconciling values
Laura Fitzgerald, Miriam O'Connor, Orla Barry, Katie Watchorn, Jane Locke, Maria McKinney and Anna Rackard
RHA Gallery  17 February – 24 April 2022 
More Weather, pen & Sharpie marker on cartridge paper, 42 x 59.4cm, 2022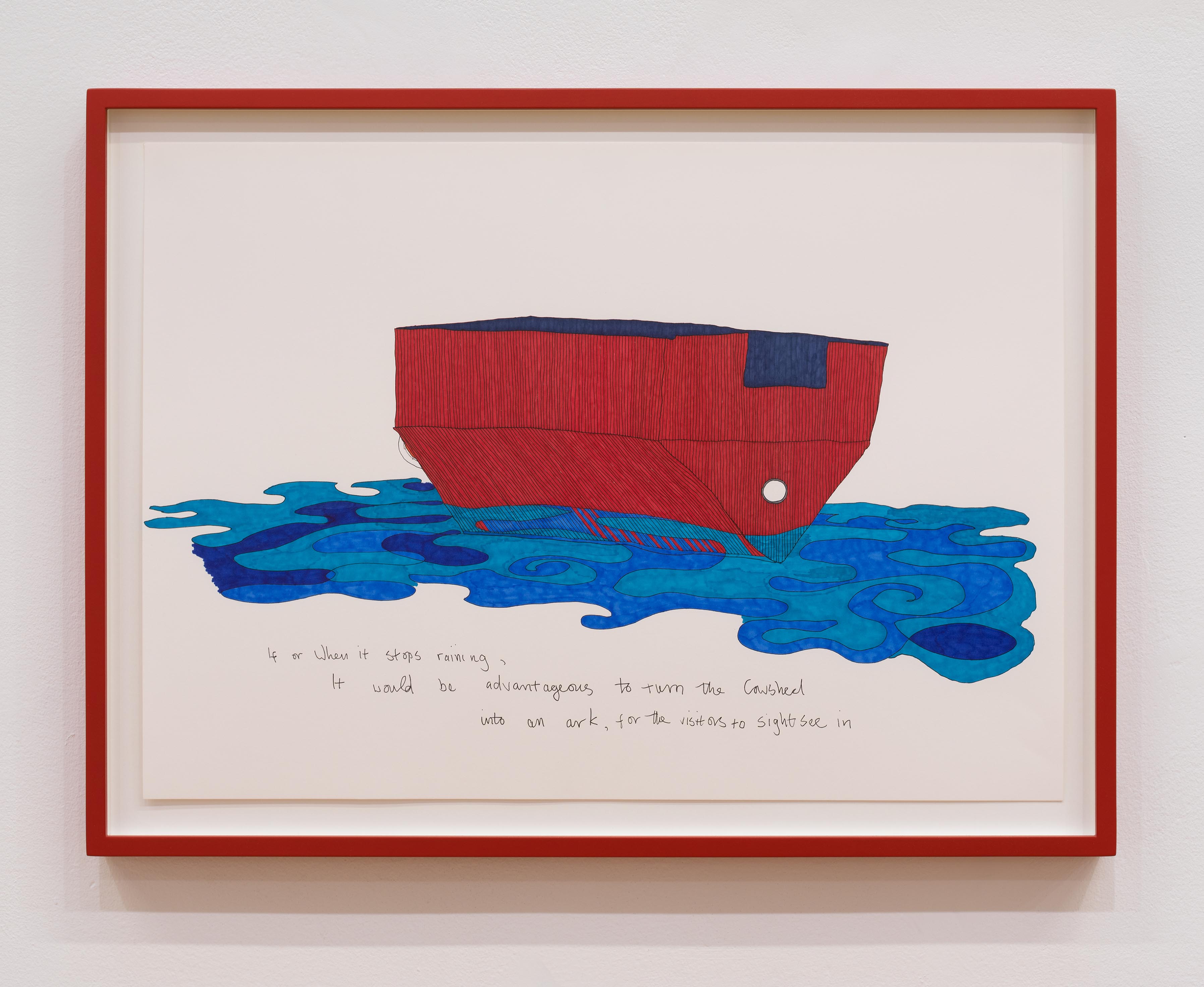 The Ark, pen & Sharpie marker on cartridge paper, 42 x 59.4cm, 2022
As we start to clean out the shed, and as each bag of dry cow shite gets humped off in a wheelbarrow (beautiful stuff he says), Dad's tools start to slowly gather in small piles. A vise-grip, the lump hammer, an assortment of chisels. Everything is painted an electric shade of blue so he can see them all clearly in the dark. 
Where is the chassis? (Dad is so annoying, he always focuses on the negatives). 
'The tractor is floating in space, Dad. Obviously. It's an art thing.' 
Dad's metal vice gets installed in the shed. It's been dragged across the field, leaving plough marks in its wake. A panicked call to my sister means she shoulders the last bench drill in all the Kerry Lidls' back to the shed for him. I begin to suspect he might be moving in. 
The tractor starts to wobble into shape. Ah jelly, I remember you most fondly. The other real tractor is slow. A turtle tractor. Perhaps we will race in the summer. Everyone can push it along while we race Dad. His one is stuck in first gear. That will give Sisyphus a good run for his money. 
Can I come and stay for the weekend? (Mom is an opportunist). 'I'm very busy with the tractors', I say. The visitors will have to wait. 
The welder welds itself into entropy causing my own blood pressure to rise. 'Maybe I'm dying?'
The doctor looks at me, look into my eyes he says.
'I do drink a lot of coffee', I admit. 
I can hear Dad humming when he's walking towards the shed. He told me he used to see the smoke from Granddad's pipe curling up behind a wall, long after he was gone. And sometimes, many years later, Dad might come across a chance stone or tool and the smell of stale tobacco would seize him, like a grip around his collar. 
That will never hold, he says with a giant paw giving my 8mm steel a good rattle. 
'Dad! Don't touch it.' 
I go off to cool down, to do a bit of drawing and admit to myself that a few extra bars need to go onto the chassis. At night, in the dark I cannot sleep. 'What if he paints it electric blue?' 
A text come in from him: WELDING RODS x 
Oh fuck. What if he welds bits onto it, paints it blue or oils it? 
The tractor gets loaded onto the truck, just like the cows used to, when they went to the mart. Though this time, it's to the art gallery. Unusually, Dad stays away, keeping a respectful distance. I wonder should I stay out tonight, bellowing in the field. I guess a mother misses its calf. 
Where is your father these days?, says Mom. Over at Craft Central I say. 
The shed got rechristened after Dad's favourite beer home delivery service. I can hear him humming. 
Restless Tractors, pen & Sharpie marker on cartridge paper 42 x 59.4cm, 2022
but I do still care, pen & Sharpie marker on cartridge paper, 42 x 59.4cm, 2022
 Rural Stress (Landini), bended 6mm, 8mm smooth steel and12mm rebar de-tensioned by BCD steel, welded with JJ Smith's shite welder from Amazon and then when that melted the class welder bought from Fred Cronin's in Tralee, EVA milking parlour matts, criticism (helpful) from Laura's Dad, South Kerry rain, with audio meditation by Laura's Mom duration 17.56mins, dimensions variable (very large), 2022
A Mountain for Venice, scroll drawing, sharpies bought from Tesco's & Schoolbooks.ie, four fancy copic markers from Evan's Art Supplies (web order), on John Purcell paper kept in customs from January to March and time, oh sweet precious time, 84 cm x 458cm, 2021
 Rural Stress Installation, (full view), 2022
 The Visitors drawing series (ongoing), pen & Sharpie marker on cartridge paper, 42 x 59.4cm, 2022 – until the end.
'Too big' series, (No. 9: Most tractors are too big), 2020, Sharpie markers on offer in Eason's on Katie Watchorn paper, 49 x 36.5cm. Photograph by Paul Gaffney.
Rural Stress, Installation, (full view), 2022
Rural Stress (Landini), bended 6mm, 8mm smooth steel and12mm rebar de-tensioned by BCD steel, welded with JJ Smith's shite welder from Amazon and then when that melted the class welder bought from Fred Cronin's in Tralee, EVA milking parlour matts, criticism (helpful) from Laura's Dad, South Kerry rain, with audio meditation by Laura's Mom duration 17.56mins, dimensions variable (very large), 2022